Hot Ones: A Hot Show
From staple shows like Bon Appétit and Masterchef to trendy platforms like food Tik Tok, there are many avenues through which we can now consume food content online. Let me introduce to you my personal favorite: Hot Ones.

Hot Ones is a youtube series with "hot questions, and even hotter wings" where host Sean Evans and the special guest will answer questions while eating chicken wings. The catch is that they plow through a series of increasingly spicy hot sauces known as the "gauntlet". You may be thinking, "Chicken wings and hot sauces? Sounds fun." But here's the twist — the hot sauce gets as spicy as the infamous Carolina Reaper.

If you think this sounds chaotic, it is. You watch guests struggle gloriously to answer questions about their careers, current projects, and personal lives as the once-innocent appearing chicken wings reveal their fiery flavour. Sweating, swearing, and swigging down milk are common occurrences within the 25 minute interview, with some guests even unable to stay in their seats as they finish answering questions. The commotion bleeds into the conversation as guests get distracted by the intensity of spice, but their reactions make the show that much more more captivating.

Complimenting the entertaining chaos that ensues, the quality of questions asked are unmatched by any other show. Topics range from the guest's widely unknown interests to specific moments in the past. In Zac Efron's episode, for example, he asks, "Damn, how did you know that? … Geez, I don't even think my publicist knows this," praising the Hot Ones team for the extreme depth of research that went into crafting the questions and overall interview. This type of compliment is neither foreign nor exaggerated when it comes to this show.

Polishing off the show's superior standard, Sean Evans gives an absolutely brilliant performance as the host. Personally, one of my favorite aspects of the show is Evans' undeniable gravitas with which he grounds the disorder caused by the hot wings. In conjunction with his noteworthy eloquence, Evans displays unparalleled flexibility in interviewing guests from a variety of backgrounds, including Saweetie, Aubrey Plaza, Awkwafina, and even the food king himself, Gordan Ramsey. Most of all, Evans has championed 14 seasons, totaling up to 207 episodes, of eating these insanely spicy wings all while maintaining his composure. And yes, I agree, there's no way that's good for him.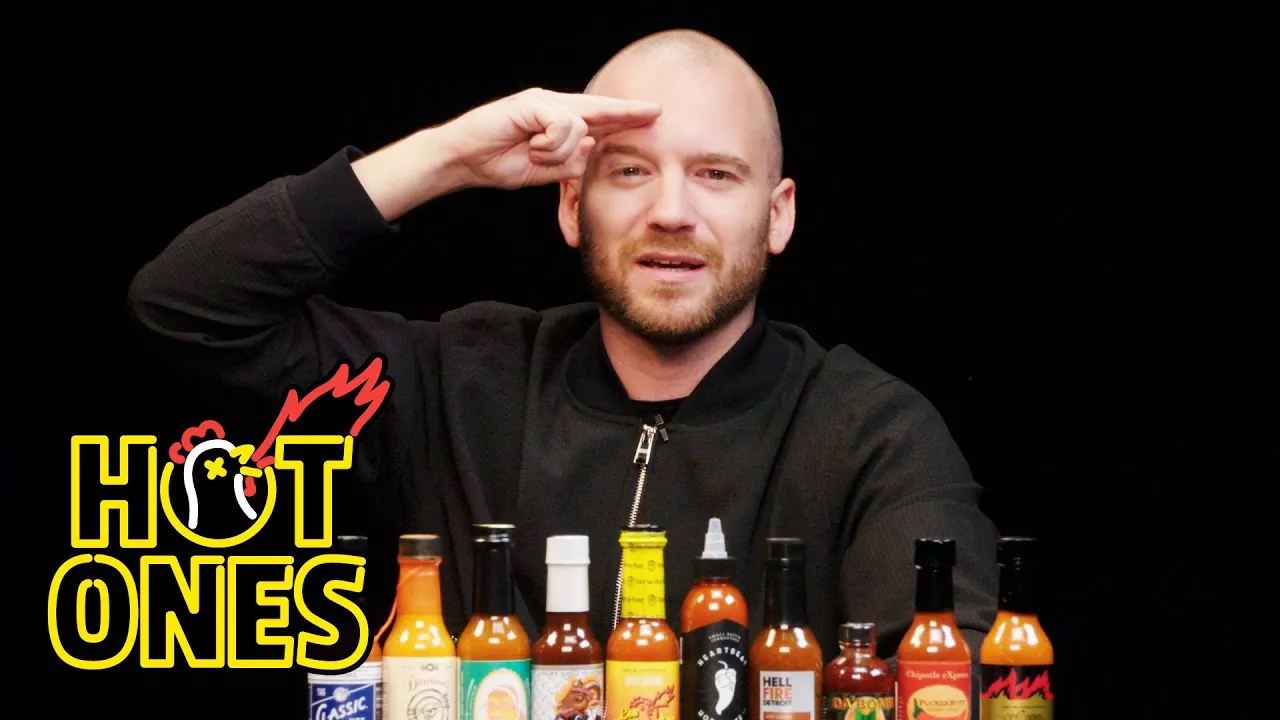 Overall, the show is exceptionally well-crafted, starting from the explosive introduction sequence to the unique deep dive segment where guests are given opportunities to contextualize their photos. Using some chicken wings and a series of hot sauces, Hot Ones delivers chaotically-good entertainment without a single dull moment. Above all, the way the show uses food as a vehicle to connect the audience, guest, and interviewer together is refreshing and beyond genius.

Now, all that's left is for you to start binge watching the show!
Can you make it through the gauntlet?